How it works
Innovation has always been the driving force behind Siemens' business success over the past 170 years. But innovation no longer happens in closed corporate labs. In a world where digitalization is speeding up everything, we need fresh ideas from outside the company.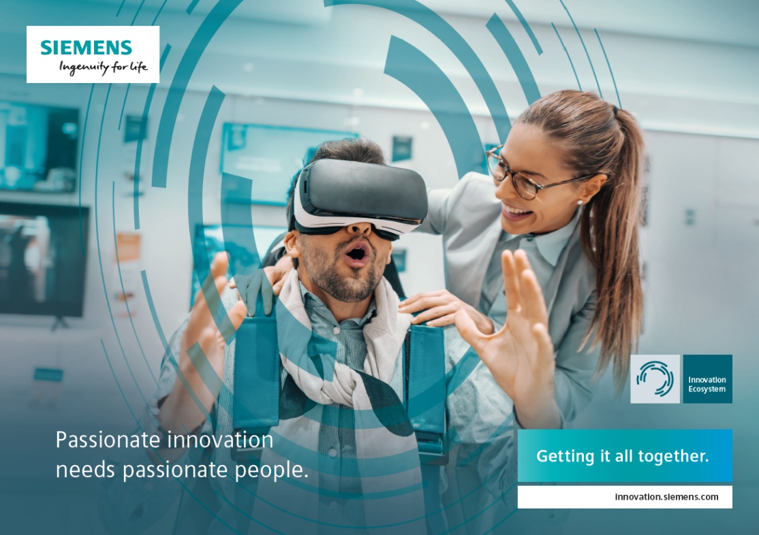 The Siemens Innovation Ecosystem is the global innovation platform at Siemens. On this platform we're hosting global challenges from our businesses that we want to solve with your help. Therefore, we're addressing all innovators with an entrepreneurial mindset.
Depending on the challenge, we're looking for different types of participants, who can be:
Just follow these steps to innovate with us
Become a registered user by clicking on the "Register" button located in the upper right corner on the landing page and complete the form. To use the platform, please read and accept the Terms of Use. Important: Please be aware that only participants older than 18 are allowed to register.
02
Participate in industrial challenges
Under the section "Challenges" you will find an overview of all of the Siemens challenges that are open for your participation. Here you can view recent as well as completed challenges. Find out more about each challenge by clicking on "Take part now." To contribute to a specific challenge, please read and accept the challenge-specific rules. Create ideas and add to the discussion by commenting, liking, and voting on individual ideas.
Apply your knowledge, creativity and passion to real industry problems, learn from experts and connect with industry leaders. If your idea wins, you will receive either prizes, invitations to events or other great rewards, depending on the campaign.
What exactly is the "Siemens Innovation Ecosystem"?
The Siemens Innovation Ecosystem is the global innovation platform that aimed at collaborative interaction in the area of innovation. It connects creative people with ingenious thinkers and brings people together to foster collaboration and accelerate innovation. The world is our lab.
You can choose one or more challenges on the platform and participate in any number of challenges after you register and accept the terms of use and the challenge-specific rules. Join the challenges that interest you. In each challenge, there's a description of the topic and a question. The field "Submit idea" is where you'll enter your ideas, upload an image or a file, and submit them. You can also browse through the ideas posted by others and add your comments.
Click on the "Submit idea" button on the challenge page and complete the form. You must be a registered user to submit an idea. After the idea submission, your idea will be posted on the challenge page that's open for comments, shares, and contributors.
If you need to edit the idea, go to your idea and click the "Edit" button you'll find under the button in the upper-right corner. This will take you to the form that will allow you to amend your idea.
Read the ideas by clicking on them. Add to the discussion by commenting on the ideas. The goal of commenting is to help develop the ideas. Please comply with our (n)etiquette and be supportive, courteous, and respectful in your comments.
The Siemens Innovation Ecosystem uses crowd voting to help the company evaluate the ideas. In general, the "Like" button supports the idea.
The top contributors in the innovation community and the best ideas are rewarded. The quality of your posts is key. The awards are described in the challenge-specific rules.
Depending on the challenge, ideas are selected by the crowd, by experts, or by a defined group. The final selection and evaluation criteria are announced in the challenge-specific rules.
Congratulations! If your idea is selected, you'll be invited to attend the next phase of the challenge. This will vary from challenge to challenge. The challenge phases and next steps are described in the challenge-specific rules.
You'll support your favorite ideas by giving them hearts or stars. Hearts: You can like ideas posted by other participants by giving it a heart, which positively supports the idea. Stars: In the voting phase, participants will receive a number of stars that they can distribute to identify their favorite ideas. Your evaluation will support the selection of the winning ideas; this is described in the challenge-specific rules.
Identical or similar ideas will be invited to merge. Merged ideas increase the chances of gaining visibility and will tend to get a more positive evaluation in the selection process.
The challenges are divided into several phases. You'll find an overview of the challenge process and timeline on each challenge's page. The active phase is highlighted, and you can click on it. Every challenge follows an innovation process that has different maturity levels. The following examples of stages give you an idea of what it looks like:
Phase 1: Ideation
Submit ideas
Build teams
Connect and share
View ideas
Like and comment on ideas which reach a certain graduation threshold may automatically level up: for example, after acquiring a certain number of views, likes, and comments.
Phase 2: Maturation
Participants continue to develop their ideas by adding new information, including crowd and expert comments and completing their team. All ideas that are developed in this way will be considered in Phase 3.
Phase 3: Evaluation and selection
Ideas with the highest score based on the evaluation criteria in the challenge-specific rules are selected by Siemens as the winning ideas.
You can participate in a challenge in the Siemens Ecosystem in several ways:
Submitting ideas
Commenting on posts
"Liking" (hearts)
Distributing votes (stars)
Participating in surveys
You can find a challenge blog on each challenge page that gives an overview of the most recent events. Based on your settings, you'll also be notified by email if there are any updates on the challenge you participated in.
The protection of your privacy is our top priority. All data provided on the platform and during the registration process is subject to the data protection regulations in force. For more information, please read the
privacy notice
.
What's this Platform's (N)etiquette?
Our platform thrives on new ideas and constructive comments as well as critical opinions. All contributions are welcome if certain rules are observed. We ask that you adhere to the following principles:
Respect
We love to take on new ideas and further develop. Please always make sure that you don't copy the ideas of others. Make new and unique contributions, and always bring in your own share of creativity. As a user, you're solely responsible for the contributions you publish.
Fairness
Always be fair, objective, and respectful in your interactions with other participants, even if you disagree with certain contributions. Respect is the basic prerequisite for a constructive dialog.
Kindness
Specifically, this means: no insults, swearing, or hostile actions. The opinions and views of other participants should be respected in a friendly and fair manner. When citing the ideas, statements, quotations, and other contributions from other members or external parties, name the source. In particular, the following content won't be tolerated: Contributions and comments that do not adhere to these rules or those with racist, discriminatory, sexist, pornographic, violence-glorifying, hate-provoking, misleading, or other illegal content. No offensive remarks, personal attacks, spam, personals, advertising, or other commercial content.
Constructive Criticism
Feel free to state your opinions: however, they should always be either positive comments or constructive suggestions for improvement.
Challenge specific ideas
You can only publish content (such as text, pictures, and videos) for which you own the necessary rights (in particular, copyrights). Stay on topic! In each phase of a challenge, a very specific issue is covered. In order to find an answer together, we all need to be talking about the same thing.
Meaningful comments
Your comments should develop the idea or enrich its content. The best possible results can be achieved if and when our thoughts and ideas grow together. Your comments must refer to the subject of a given contribution. Use your real name to promote an open and honest discussion.
Photos
Be sure to never upload photos that are copyrighted or infringe the rights of third parties.
And maybe you are asking yourself...
We ask that you report contributions that don't comply with the (N)etiquette described above using the function "Actions -> Report" (top-right in each comment field), and we reserve the right to remove such contributions without offering a reason.
We'll automatically inform you about various activities occurring on the platform. If you don't want to receive e-mail notifications, you can always deactivate them in your profile under "Notifications."
Your wall displays news related to the challenges. In contrast to social networks, your wall isn't public and is only visible to you.
Your profile picture can be easily changed in your profile. The link to edit your avatar is located directly below your current profile picture.