A one-stop shop for taking ideas to the next level
A one-stop shop for taking ideas to the next level
We all have or need ideas that will help Siemens and its customers succeed. The Innovation Ecosystem can help with make them a reality. It bundles all of the tools, from the first thought to the implementation: Events, campaigns, coaching, suitable tools, financing opportunities, and much more. More recently, the Topic of the Month offers guidance on a specific topic.
"At Siemens, there are so many different tools available for promoting innovation; we really needed a solution that would help innovators quickly find out how they can immediately and easily make their ideas reality." That is how Christoph Krois, Innovation Manager at Technology (T TIM), describes the baseline situation.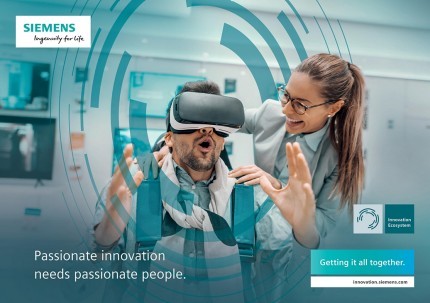 The solution created to meet that need is a platform where nearly everything can be found: familiar tools like Siemens' internal Crowdfunding Quickstarter, which is already in its sixth round, as well as newer, cool initiatives like Intrapreneurs Bootcamp, which is designed to appeal to people who might not have seen themselves as innovators in the traditional sense. "We also want to encourage them to implement their ideas," stresses Krois' colleague Danijel Grabovac. The program makes the participants into "Intrapreneurs" for their idea. They find out what drives them. They make connections. They use the most state-of-the-art methods and tools in their startup projects. And they learn to put customer benefit front and center in their ideas – right up to the final pitch to management.
The Siemens Innovation Ecosystem launched in the summer of 2020, and already 30,000 people from 40 countries have registered and submitted more than 1,000 ideas. In all, there are now a good 7,000 ideas on the platform.
Ideas become products
A customer's need to grow its own innovation culture prompted Till Krumbholz, sales engineer at Smart Infrastructure, to initiate a joint Innovation Challenge. The management of the two partner companies awarded more than 500,000 euros as seed funding to the winners and their innovative ideas, which covered all aspects of transformer substations and secondary substations within power grids. The winning ideas will now be implemented together.
One of the ideas is a Cloud platform, a simple, uncomplicated means for prosumers and other energy customers to place energy orders. "It helps avoid grid bottlenecks and blackouts and saves us the cost of expanding the customers grid," explains the sales engineer. "It also brings our entire organization a lot closer to the customer." In all, 20,000 SI employees and the entire workforce of our customer were involved in the campaign. This was the first ideas competition on the new platform.
"We knew from our earlier Hello Future competitions exactly what we needed on the Ecosystem platform and were glad to be able to bring our experience with the Hello Future Challenge to bear in the development process," recalls project lead Martin Tackenberg. "Everything went smoothly, and many teams comprising equal numbers of customer and SI employees were able to work in open partnership and contribute more than 50 innovative, relevant ideas and develop them further with the crowd's help. The crowd chose the best five ideas, which were then presented to a jury. The Ecosystem platform paves the way for open innovation with customers as equal partners.
Mobility has also used the Innovation Challenge. "Carbon neutral well before 2030" was the motto of the Go4GreenMobility campaign. One of the winning ideas was entitled CO2transparency for mobility solutions. "The 236 ideas and 2,749 likes are a powerful statement that reducing CO2 emissions really is important to us," stresses Patrick Schramm of Mobility Communications. "The Innovation Ecosystem was the perfect environment for fostering collaboration and engagement for our competition. It made it really fun to depart from business as usual!"
Funding: Who can help me make my idea a reality?
The Innovation Ecosystem aims to encourage everyone to really let loose with their ideas and bring their questions to the table. "The hub offers something for working students wanting to implement a small project just as well as for people who want to bring their tested prototypes to the market," explains Christian Homma of T TIM. The Topic of the Month highlights a single aspect of the Ecosystem each month, which lends guidance. November is aimed at all those who need resources to implement their idea. The program offers a combination of events, sessions, and training opportunities and invites people to participate and share. The various funding sources that Siemens offers are presented in webcasts. "Many of us did not know about many of these tools," says Christian Lodde, Business Process Specialist at SI EP in Georgia, US. For him, the participation in these sessions was very successful. "I met people with whom I connected offline. Now we collaborate. I have really grown my network from here. For me, the Innovation Ecosystem is THE place for innovators to meet other innovators and collaborators." Christian has taken on the role of an Ambassador for the Innovation Ecosystem in the US, to promote the platform there.
Efficient networking across sites and around the world
Jacob Mathai, Data and AI product manager at DISW in Portland, US, also needed and found an international network. I was developing a software solution at BU level and wanted to scale it. I needed a kind of sheltered room where I could share my idea, which was still at an early stage, with a larger community." Christoph Krois invited him to an innovation challenge on AI. "And that was exactly the right thing," he says. "I gained a horizontal network across Siemens. Within 2.5 weeks I had 500 followers. About 50 of them are seriously engaged and we work together on my idea. I now have people asking me whether they can fund my project! The challenge was a great way to scale my idea."
A platform for everyone who has or needs ideas
The Innovation Ecosystem also helps those in search of innovations. "For instance, supply chain managers are often looking for innovations in specific areas," explains Christian Homma. The Supply Chain Configurator tool proposes methods for getting there faster, like Supplier Innovation Days. This empowers users by providing specific strategies for getting them and their customers where they want to go.